Grafana, an open source analytics and monitoring solution, has accepted ACE IoT's React-powered SVG Panel plugin. The free plugin is available on Grafana's website and on GitHub and is already being used by a wastewater treatment plant and by off-grid solar energy facilities to provide compelling visualizations of real-time operations data.
From the earliest days at ACE IoT Solutions, we have used Grafana to enable our customers to build and customize dashboards. Grafana's flexibility and performance mean that the ACE platform can support operational data flows across a wide range of applications, from wastewater to energy and indoor air quality. Combined with ACE IoT's flexible metadata model, Grafana helps our customers manage and visualize data effectively whether the data are organized by an industry standard such as Project Haystack or using a site-by-site legacy naming convention.
The Grafana platform was not developed specifically for either the building analytics or energy facilities operations sectors. Instead, Grafana was developed for IT Infrastructure Providers who use Grafana to monitor and analyze the health and operations of their systems and software. Nevertheless, in combination with the Eclipse VOLTTRON – the open source platform that ACE IoT uses for data acquisition, Grafana has proven a reliable and valuable tool for ACE IoT and has helped our customers unlock valuable insights.
Plugin Enables Dynamic Graphic Images
While ACE IOT's customers appreciate the easy-to-use Grafana solution, some have asked about the possibility of incorporating graphics so that their data are more easily understood. We assessed the existing SVG panel plugins available for Grafana users. While each had value in the original developers' use cases, several used the pre-7.0 version of the Grafana Platform, which limited our ability to contribute functionality without significant rewrites. Because we wanted to be able to use an arbitrary vector graphics visualization tool to support our customers, the best way forward was to create the ACE.SVG panel plugin that enables graphics visualization with the latest frontend panel API (React) and the latest Grafana DataSource API (DataFrames).
With the new plugin, Grafana users (including ACE IoT and our customers, of course) can bring their data to life. The City of Monroe, Louisiana is using the new plugin to create dynamic gauges that reflect the real-time operations of the city's wastewater treatment systems.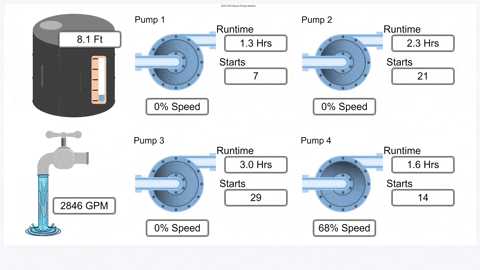 AMMP Technologies, a monitoring solutions provider off-grid solar energy systems, was quick to see the value of the new plug-in for its customers. According to Svet Bajlekov, CEO of AMMP, the fact that the new plug incorporates React and the latest Datasource API means that AMMP can better leverage the increased performance and data flexibility that come with these interfaces.
"Our users need to quickly ascertain the operational state of their systems. Using the plug-in, we can easily add visual effects, in a way that intuitively showcases this. For instance, by bringing attention to important aspects of the operational state, device-level health, and the flow of energy at the facilities that AMMP runs. After all, the ability to create and animate graphics in a tailor-made way helps the data come to life. The plugin adds a valuable feature to Grafana – one that would previously have required a great amount of custom development."
Grafana is a Unique and Valuable Tool for Monitoring Physical Systems and Infrastructure
More and more Grafana users are coming from the building, energy and utility sectors. According to Ryan McKinley, Grafana's Vice President of Applications, Grafana's recent investment in backend development and the release of a new data API with Grafana 7.0 will enable better and more rapidly developed solutions for users from these sectors.
"While Grafana has focused on growing and better serving our core customers in the IT infrastructure space, each year at our annual user's conference we see new and innovative applications of the Grafana Platform in monitoring physical systems. We're proud that the efforts we put into building a healthy developer ecosystem are helping to grow our core user base and empowering users to create innovative solutions in other verticals."
For more details about the new SVG Panel Plugin for Grafana or to download the plugin, please visit either the Grafana plugin page or ACE IoT's GitHub page. To discuss how ACE IoT can help your organization acquire and visualize data, please contact Bill Maguire at bill@aceiotsolutions.com.
Please follow ACE IoT on LinkedIN.