At the 2019 VOLTTRON Days conference, Open Source Strategies' Si Chen presented the opentaps Smart Energy Application Suite (SEAS), a newly developed open source energy management system designed to help users realize value related to data collected via the Eclipse VOLTTRON platform. Included among the features of the opentaps SEAS software is an open source rules engine that enables users to take advantage of the metadata and network structure of their deployed systems to rapidly tag their data and unlock its full potential.
Effective Meta-Data is the Key to Unlocking the Value of Energy Usage and Operations Data
When it comes to energy usage data and data related to the operation of buildings and HVAC systems, the value of the data is often a function of meta-data tags that accompany the underlying data. Data that is well tagged (with identifying information about energy flows between equipment or data specifying the equipment that generated the data, e.g.) can be readily parsed, sorted and analyzed. Well-tagged data can be visualized effectively and enable diagnostic and predictive use cases.
Data that does not include consistent and understandable meta-data is more difficult to disaggregate and, consequently, has less value. Indeed, operational data with ineffective meta-data often requires a labor-intensive process to map the data before the data can be a useful input. Without effective metadata finding value in HVAC and operations data can be akin to searching for a needle in a haystack.
Project Haystack
Since 2011, an initiative named Project-Haystack has sought to make it more cost effective to analyze, visualize, and derive value from operational data. A 501(c)6 organization, Project Haystack is a collaborative effort to develop standardized semantic data models and Web services to help unlock value from data generated by the smart devices and equipment deployed in our homes, buildings, factories, and cities.
According to a useful white paper released by CABA, Project Haystack is the open source home of four critical tools:
A data modeling methodology.

Consensus-based tagging libraries (taxonomies) published and made available for download and use (at no cost).

The REST communication protocol designed to exchange Haystack tags between applications.

Software reference implementations and complementary applications being developed by various community members and companies.
Opentaps Smart Energy Application Suite (SEAS)
Opentaps SEAS plans to enable a full suite of applications for everything from retrocommissioning to load management and fault detection within the suite. Utilizing Eclipse VOLTTRON as the integration layer with the energy systems, opentaps SEAS builds on the investment and experience of the entire VOLTTRON ecosystem with easy to use, commercially-ready applications that help make smart sustainability attainable for everyone.
The first application developed, enabling a consistent architecture for all the planned applications, is an open architecture rules engine for tagging energy data using the open standards from Project Haystack. The rules engine allows users to take advantage of the metadata and network structure of their deployed systems to rapidly tag their data and unlock its full potential. The tagging process consists of three key steps, outlined below:
Importing the data and metadata captured by VOLTTRON through BACNET scanning feature.

Establishing rules for parsing the data points and tagging them with Project Haystack tags.  For example, users can direct SEAS to tag all data points that contain "VAV" as VAV equipment, all the data points that contain "SP" or "SetP" and have a BACNET metadata unit of Fahrenheit as temperature set points, and so forth. (See screenshot below.)

Grouping rules into rule sets, for example by manufacturer or building owner.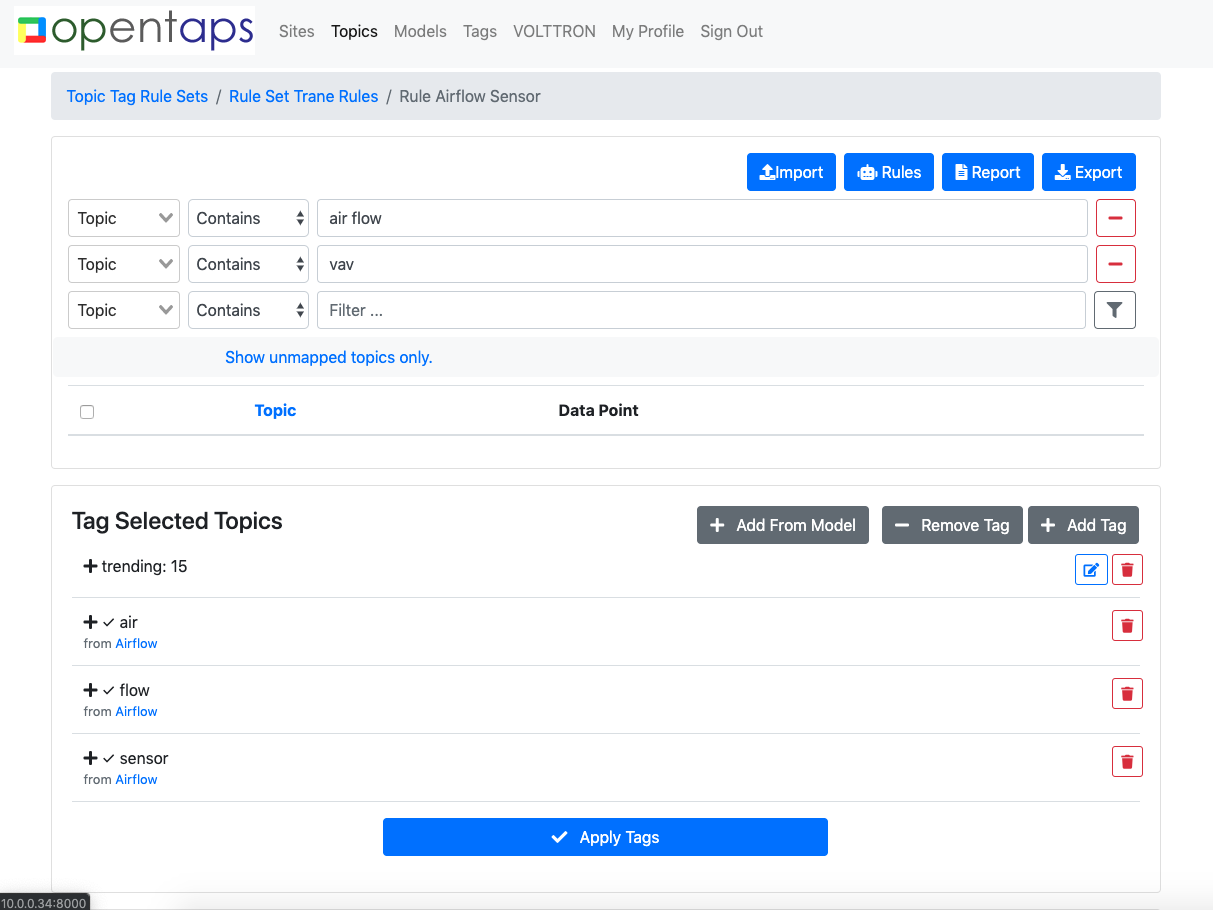 For more information about opentaps Smart Energy Application Suite (SEAS), please visit www.opentaps.org. For information about the Eclipse VOLTTRON platform and ACE IoT Solutions' VOLTTRON-enabled data acquisition solution, please Contact ACE IoT to explore what projects we can do together!