ACE IoT Solutions, Electric Power Research Institute (EPRI), Oak Ridge National Lab (ORNL) and several utilities are working on a project demonstrating the value and viability of open source home energy management systems. The project, funded by the Department of Energy's Grid Modernization Initiative, serves to highlight the critical role of CTA-2045, an open communications standard for appliances such as electric water heaters. In this post, we examine the CTA-2045 standard, a workhorse enabling the smart, grid-integrated home of the future.
Technical Workhorses and Show Ponies
Algorithms–these are undoubtedly the show ponies of the smart and connected world. Mathematical masters of complexity, they can help optimize energy demand, energy supply and energy distribution. Learning as they are fed more and more data, algorithms will be the engines behind the smarts of our increasingly smart grids, smart buildings and smart communities.
Making a smart grid-integrated homes a reality is going to require more than elegant algorithms. Communications protocols, interfaces and middleware platforms that collect and manage data from disparate systems—these are the workhorses that enable new innovative applications and services powered by data-driven algorithms. Indeed, a key takeaway from EPRI home energy management system project is that data must flow if the algorithms are going to have their intended impact. In the EPRI project, CTA-2045 (working in conjunction with OpenADR and Eclipse VOLTTRON) is a workhorse that makes viable a smart home reference implementation that utilities and co-ops can use to enable responsive residential loads for grid services.
What is CTA-2045?
According to the Consumer Technology Association (CTA) and ANSI, the administrators of the CTA-2045 standard, CTA-2045 specifies:
A modular communications interface (MCI) to facilitate communications with residential devices for applications such as energy management. The MCI provides a standard interface for energy management signals and messages to reach devices.
Described as a "USB for appliances," the MCI plugs-in to an CTA-2045 compliant appliance and allows two-way communications between the device and a utility. CTA-2045 devices can include energy management controllers, gateways, sensors, thermostats, appliances and other consumer products. The CTA-2045 specification creates a communication interface that enables translation between the physical and data link layers of a device.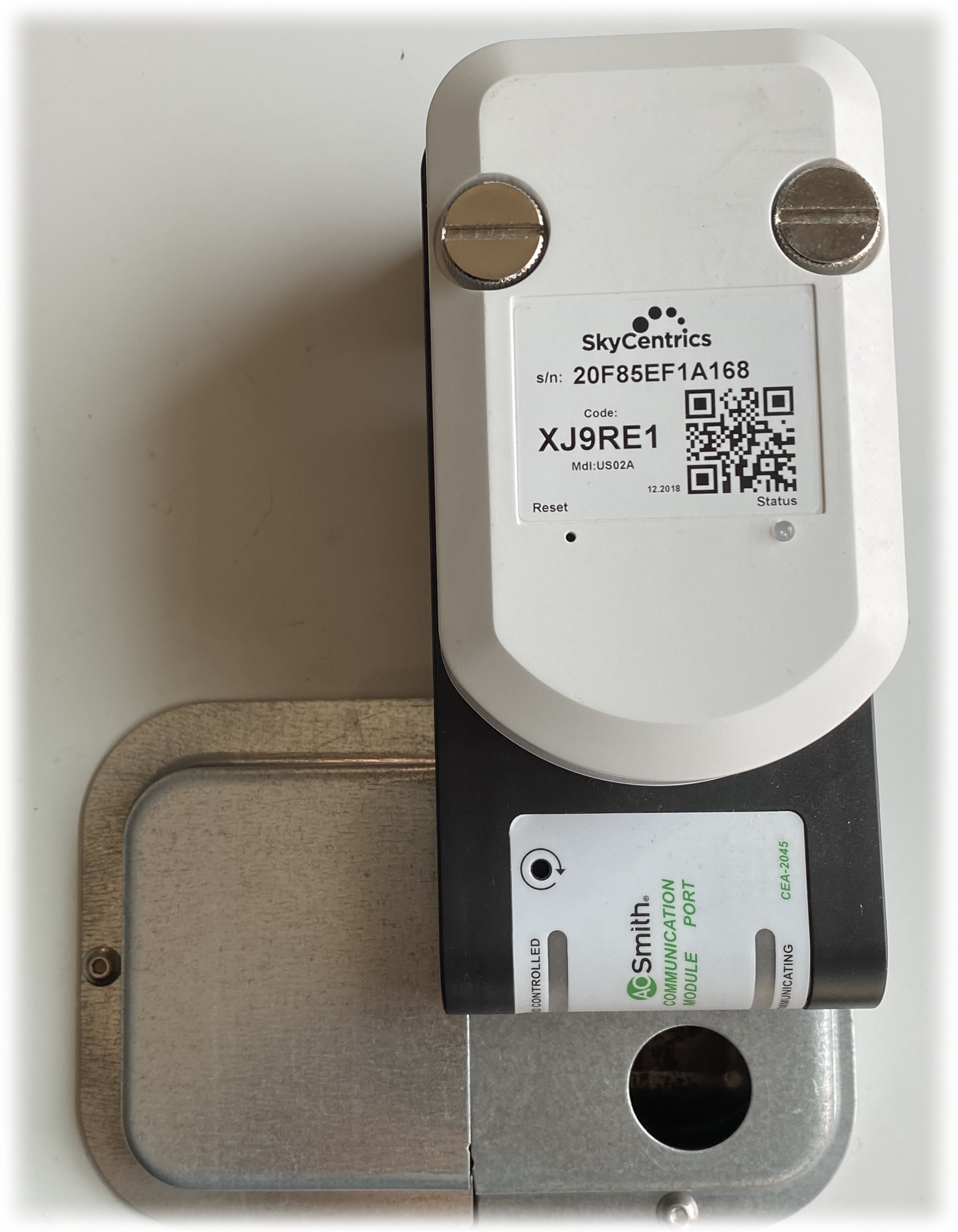 In effect, the CTA-2045 plugin prepares the compliant appliance for participation in a utility's demand response programs. So-called "grid-ready" appliances allow utility companies to better manage the electrical load on the grid. Installation of the CTA-2045 plugin make possible use cases whereby water is pre-heated during times when electricity is inexpensive or generated by renewable power sources. Being able to control water heating will enhance the grid reliability, lower carbon emissions and lower costs for consumers.
For the EPRI home energy management systems project, the CTA-2045 modules provide a uniform platform for interfacing with variety of residential loads. Utilizing the CTA-2045 standard, manufacturers enable advanced energy management capabilities. With the advanced capabilities imbedded in the compliant appliances, application builders no longer need to write a new interface for each device. Because the water heaters, HVAC systems, pool pumps and electric vehicle charging systems share interface code, the implementation of the Home Energy Management System is simpler and more robust.
Looking at the Big Picture: The Potential Impact of the CTA-2045 Specification
Both the Bonneville Power Administration (BPA) and the Northwest Energy Coalition (NWEC) have commissioned studies on the potential impact of CTA-2045 compliant electric water heaters. In its report, NWEC concludes that between 1000-2000 MW of peak load reduction is achievable from deployment of CTA-2045 enabled electric water heaters over the coming decade, as existing units are retired and replaced in the states of Idaho, Montana, Oregon and Washington. The BPA study estimates that there are 3 million water heaters in the Northwest and the potential for demand reduction exceeds 1000 megawatts for an hour or two when temperatures are very cold or very hot and regional electricity demand is at a peak.
With respect to adoption of the standard, there is reason to conclude that a meaningful percentage of the 100 million water heaters installed in the United States will be replaced with CTA-2045 compliant appliances by the end of this decade. In 2019, Washington State became the first state in the nation to require that all electric storage water heaters manufactured after January 1, 2021 must be compliant with compliant with CTA-2045. Other states, including California, have initiated potential regulatory action regarding CTA-2045 compliant electric water heaters. Additionally, manufacturers including Rheem, A.O. Smith and Bradford White have released CTA-2045 compliant electric water heaters and several utilities have introduced electric water heaters demand response programs, for instance aggregation of residential water heaters is a cornerstone of Great River Energy's Community Storage Initiative.
Open communications interfaces including CTA-2045 and OpenADR make it possible to develop and deploy an open source home energy management system. Eclipse VOLTTRON, the open source energy data platform, integrates easily with CTA-2045 and OpenADR. Leveraging these critical interfaces and technologies – these critical workhorses – ACE IoT has worked with our project partners to develop and deploy a resilient energy management system that allows customization and tuning to address grid-related challenges.
To learn more about ACE IoT Solutions, please visit www.aceiotsolutions.com.
Also, please check-out ACE IoT Co-Founder Andrew Rodgers' recent interview on James Dice's Nexus Podcast. Andrew discusses his perspective on what "open" means for smart buildings. Finally, ACE IoT is also featured in an article published by the Pacific Northwest National Lab, entitled "VOLTTRON Goes to School."
Please follow ACE IoT on LinkedIN.